Tag Archive for 'mente'
Today I have been interviewed by the Italian tennis table federation.
I propose again the 10 key points to be aware of and know how to accept in table tennis to be a winner.
Table tennis is a sport in which every player makes many mistakes
You can win till the last point
Concentration must be high and consistent at every point and up to the last
You have to react positively immediately after every single mistake
The service is decisive
It is necessary to have a specific pre-race routine
It is necessary to have a routine between the points
Even the champions are in trouble but they know what to do to get out of it.
In defense: play an extra ball!
Chen Bin, coach of Ding Ning, Olympic gold medalist: "Table tennis is not just about hitting the ball on the table, you have to return the ball, you have to feel how the ball comes towards you, and visualize how your ball will end up on the opponent's table when you hit it again"
Breathing has for too long been considered only as a natural event that the individual performs mechanically to ensure survival. Today the sport recognizes the breath a different relevance, to promote relaxation, to recover from stress during the race, to increase concentration and activation of the athletes in the most different situations of their activities. From training to competition, from physical to technical and psychological preparation, deep breathing and spontaneous breathing are useful to improve the effectiveness of the athletes' commitment. Therefore, according to the requests of the different sports, it is possible to insert breathing training modalities. This theoretical-practical workshop aims to bring together experts in the different areas of sports science and athletes in introducing this practice within the usual training activities and competition routines.
The seminar will be held by Alberto Cei and Mike Maric, on February 19, at the Centro di Preparazione Olimpica Giulio Onesti, Largo G.Onesti 1, Rome. Program and registration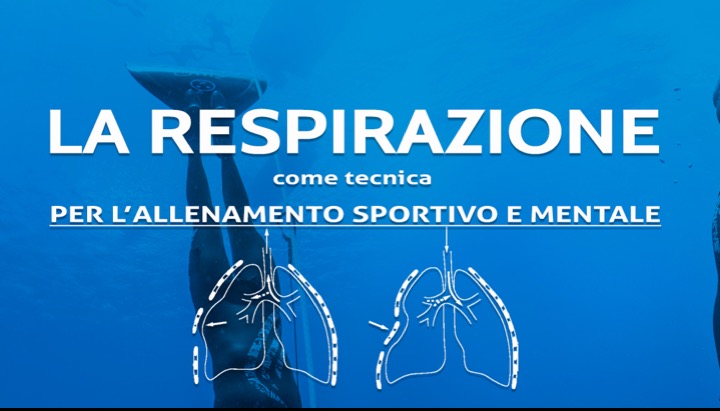 Some rules to achieve the excellence from two top tennis players.
Maria Sharapova
When you are in a competitive situation and you're down, what do you do or say to yourself?
"I take my time in between in my service games. I walk to the baseline. I move my strings around. I do a little pep talk, and it's very automatic. I think it's more of putting my eyes onto my strings and having this repetition that it doesn't matter if I won the point or lost the point. I'm on this this river that is going to get to where it's going no matter what rock is in the way, no matter what storm is on the way. The water is, ultimately, going to go down the river. It's a safe place for me because in tennis momentum changes so much, just like in life. One second, everything is positive, and you get bad news. You go from a great day to wow. I see those strings, and I see my fingers playing with those strings, and I think of being level headed and being not overly excited, not down. But being in this medium frame of mind."
Serena Williams
"My game is my mental toughness - "Just not only to be able to play, to win, but to be able to come back when I'm down. Both on the court and after tough losses, just to continue to come back and continue to fight, it's something that takes a lot of tenacity."
Practice under pressure -  Williams believes tennis is "70 percent mental,", for this reason she tries to replicate match situations during the sessions. For instance: down 15 to 30 on her second serve. Competitive simulation is a  very efficient coaching method. P
Stay in the moment - many tennis players choke under pressure and tend to unravel when they are behind. It's important stay there, using our mental strength to win. You reach this goal living the moment: "Even if you're going through something in life, you can't rush through it instantly. Take it one moment at a time. It's the same on a tennis court. You have to take it one point at a time." Live the here and now.
Forget the mistakes - "Another thing that makes me play poorly is if I'm thinking too much about my last match. I might have won it, but not happy with how I won it," says Williams. "If you get really upset at mistakes, the best advice I've ever been given is to forget about it. You can't rewind time, you can't take back that mistake, but you can make it better and not do it in the future."
The personal trainer is now a professional figure well established in the world of fitness and promotion of active living. It is a different role from the coach and requires the development of specific skills that can be summarized as follows.
Social and Communication – You'll be dealing with a wide variety of people. Purpose: to get the most out of each individual. Use your social skills. Cheerful and extrovert, so customers warm up quickly. Simple and precise, to persuade to follow session
Empathy - Each client comes from different backgrounds, faces challenges and lives different limits, physical and mental, to become physically fit. Connect personally with these challenges by listening to them and understanding their feelings. Watch the life through their eyes, understand their goals. Show genuine interest in them
Motivation and leadership - One of the main tasks is to provide reasons for motivation. You must be able to teach to be motivated. Important is the ability to motivate yourself every day and push you beyond your limits.
Planning & Organization - Work with many different customers. You need organization and planning to draw up unique plans, maintain awareness of the goals achieved and proceed.
Professionalism - Competence in proposing a training program. Professionalism is evident in dress and language. Friendly and sincere in the relationships with customers, be fit in order to demonstrate that you practice what you preach with great benefit on your body and mind
Eliud KipchogeKenyan
35 years, 1m67, 52 Kg
Marathon runner, 230km week
Married, 3 children
Olympic gold and world recordman on the marathon in 2h1m39s
Goal: Run the marathon in 1h59m in Vienna in the next few days
Mental Attitude (mindset)
Training, passion and self-discipline
He writes down everything he does in notebooks.
He writes down his feelings to remember them
Read Aristotle, Confucius and Paul Coelho
He runs with his mind relaxed
"Respect a law, that of never telling you lies"
"Only the disciplined are free, the others are slaves to moods and passions."
"When I train, I try to feel my body and give more and more. I don't believe in limits.
"You have to have a great conviction and a team that believes in you and supports you. Shoes are also important. And then you have to be stronger than any other runner in the past. Everything is possible".
"Marathon is life. If you want to be happy you have to enjoy life and I enjoy running the marathon. That's why I smile.
He leads a spartan life:
Always gets up at 5 a.m. in Kaptagat (Kenya)
The weekend returns to the family
He cleans his room and bathroom
He washes his knits and socks in a bowl that he then spreads like the others
In the afternoon, he drinks a cup of tea and eats a slice of bread.
(Source: Emanuela Audisio, Repubblica e correre.it)
A new Netflix documentary series details the inner workings of Bill Gates's mind, marriage, and philanthropic work, and leaves viewers with important lessons about work, love, and finding their personal definitions of success.
In relation to warming up, I would like to take up what Jurgen Weineck said in his book "The optimal training" because it is a text known to all coaches (psychologists should study it). In fact, it clearly illustrates the physical and also mental role of this phase of training. It thus highlights how important it is to teach young athletes to use this phase of training in the right way and not simply as boring exercises to be carried out to avoid injury.
"Warm-up means all the measures that, before a sporting load – whether for training or competition – useful both to create a state of optimal coordination of psychophysical and kinesthetic preparation and to prevent accidents.
"In active warming up, the athlete practically performs the exercises or movements, while in mental warming he only represents them… If it is used alone … mental training is of little use, because it only partially sets in motion, and often with little intensity, the adaptation processes characteristic of warm-up. However, in some sports (e.g. artistic gymnastics and athletic) it is very effective when combined with other warm-upmethods" (p. 547).
"As can be seen from various works there are interrelationships between warming up, motivation and the psychic attitude towards the activity itself. Thus, on the one hand, a high degree of motivation and a strongly performance-oriented attitude can strengthen the effectiveness of warming – among other things, thanks to the psychic parameters of the pre-event state that prepares the body for a high performance – while, on the other hand, a negative attitude towards it reduces or totally eliminates the benefits … warming up, starting from an initial "neutral" situation, serves to form a psychic state of readiness to perform, evokes an optimal state of excitement of the nervous system, thus improving the attitude towards sports performance and concentration on it" (p.551).
The psychological behaviors showed by the new tennis star, US Open winner, Bianca Andreescu:
"Before every tournament she plays and every move she makes, Bianca Andreescu sits down, closes her eyes and visualises exactly how the results will end in her favour. It has become one of the keys to her success."
"After I won the Orange Bowl, a couple months after, I really believed that I could be at this stage. Since then, honestly I've been visualising it almost every single day. For it to become a reality is just so crazy. I guess these visualisations really, really work!"
"Rhythm is essential in tennis and players speak endlessly of the match play required to have mental clarity under pressure."
"Andreescu is also a combative extrovert, who screeches at her own support box and gets in her opponent's face. From early on against Williams, she punctuated her successes with loud, ferocious cheers, a salute to her team but also a message across the court."
"Andreescu, who by now has visualised all the slams she will win and all that she will achieve in the sport, simply shrugged. "Well, get used to it." (To his coach, Sylvain Bruneau, who has received a trophy of his own. Bruneau grasped the silver trophy uncomfortably in his hands and laughed awkwardly: "I'm not used to this, holding trophies").
(Source:https://www.theguardian.com/sport/2019/sep/08/bianca-andreescu-remarkable-vision-us-open)
In our society, very often feeling fit is experienced as a duty, because  our friends, the doctor or our partner ask us to be fit and we feel pushed to "do something" to not listen more those questions about why we do not want to do anything. Other times, however, it is the case of those who already practice in the gym to develop a mentality centered on the idea, that to feel good, we must do more and more and the results will be achieved only with pain and tiring sessions in which we challenge ourselves to reach the limit.
Neither of these two approaches to physical activity is of great help in promoting the pleasure of carrying out an activity without any other purpose than the desire to be physically and mentally fit and being at ease producing positive effects on one's well-being, which are momentary but also lasting over time if carried out continuously. To motivate us to undertake and maintain this type of path it is important to know what we tell ourselves. Here are 10 rules, which represent 10 ways of doing that if acquired could support the choice and maintenance of a physically active lifestyle .
Enjoy the work to be fit
Build a peaceful mind
Breath to feel your body
Visualize your wellness
Listen the heart calm and when working full of energy
Image what you do before to do it
Be your breathing
Feel the body flexibility
Be linked to the good mood
Be grateful to yourself for what you do