Tag Archive for 'concentrazione'
Many soccer experts agree that there are certain specific moments in the game when a team's concentration can be assessed.
"The key moments of a match are right before the end of the first half, right after the beginning of the second half and, depending on the result, even the last 10 minutes of the match. Right before the end of the first half because there might be an element of mental fatigue and not just physical fatigue as you have worked very hard for 40 minutes. If you concede a goal right before the end of the half, you won't have time to recover it. You feel dejected becausé there is no chancè to come back. So it is a vital phase.
The beginning of the second half is also important. Looking at the England – Brazil game in the 2002 World Cup quarterfinals. If ever two goals were killers, these two were: one five before the end of the first half and the other five minutes after the start of the second half [1]."
It seems clear from these words that, while it is obvious that concentration must be maintained throughout the entirety of the match, it seems equally clear that there are certain key moments during the course of the 90 minutes when it is necessary to have a particularly effective level of attention. A critical moment for team concentration occurs after the first goal of the match has been scored. It is possible that the players feel somewhat fulfilled and thus reduce their level of concentration for a few minutes. This drop in concentration can be very costly if it is exploited by the opposing team. In fact, to exult in excessive way after a goal, can hinder the maintenance of the correct level of concentration. After the goal it is necessary instead to rifocalizzarsi immediately on the game, maintaining unchanged the desire of success and the same engagement. If, on the other hand, players continue to be complacent about their success or become distracted by the cheers of the fans, they are unlikely to succeed.
According to many coaches, an effective way to counteract this tendency is, at the resumption of the game, to strive to win immediately the first contrast, while those who lead the team on the field should encourage their teammates to have an aggressive behavior, such as to push the opponent team on the defensive instead of letting it attack. Acting in this way maintains a constant level of competitive intensity and sends the message to opponents that you are ready to continue to play your game. The psychological objective, which merges with that of the game, is not to give opponents the advantage of being able to recover thanks to the distraction of the team caused by the goal just scored.
[1] Ray Clemence, English coach, cited in Higham, A., Harwood, C., e Cale, A. (2005). Momentum in soccer: Controlling the game. Leeds: Coachwise Ltd., p. 96.
As children, we learn to use cutlery, and so we will continue to do for the rest of our lives, never having to think about it again and never making a mistake.
The same goes for breathing, which is an automatic activity.
In attention training, however, we learn to focus on breathing, which is actually a useless activity because breathing is, as mentioned, an automatic process.
Precisely because it is an automatic activity it is however difficult to focus on breathing, we are not endowed with this ability, it is useless since we cannot not breathe.
But learning to do it, we learn to be aware and to guide an automatic process and, therefore, according to Paul Ekman we create new neural pathways, thanks to which we keep under control what happens at an unconscious level. and understand the automatic nature of emotions.
Consequently, the more time we devote to that breathing training, the greater our ability to control our emotions.
'According to the attentional style approach originally proposed by Nideffer (1985) and adapted to football by Pain (2016), footballers must be able to broaden or narrow the focus of their attention quickly and appropriately in response to specific match situations. Under conditions of intense psychological pressure footballers have little time to devote to the rational analysis of a situation (e.g., pass the ball rather than shoot). This is because the speed of the game requires them to act fast, formulating thoughts within a few milliseconds. Consequently, high pressure match conditions must be extensively practiced during training until the player's responses to such situations become fully automated. This is instrumental to allow the players to focus on playing the game without the need of constantly assessing what is best in a specific situation. In practical terms, this means that a decision and therefore a behaviour must be taken and implemented while the ball is in motion and it is in these types of situations that the differences between amateurs and experts is evident. While the amateur typically focuses on the technical execution of the task, the expert is typically more oriented towards the tactical components of his/her actions. The reason is that years of training have prepared the footballer for this situation and the player has mastered the technique which has become fully automatized (Christensen, Sutton, & McIlwain, 2016).  
            A number of studies have compared novices and expert performances (Lum, Enns, & Pratt 2002). In football (Memmert, 2009; Williams, Davids, Burwitz, & Williams, 1993), research has shown that expert players are typically more oriented to observe other players without the ball (environmental focus), whereas less experienced footballers focus their attention on the ball and at teammates to whom they could pass it (skill focus). Furthermore, highly skilled athletes analyse only a few relevant elements of the game for a longer duration compared to amateurs, who instead attempt to process a large amount of information over a restricted period of time. Thus, it seems it is not just the amount of attention or concentration that it is important to achieve top performance (accurate and quick); but rather the fact that concentration must be complemented by the skill to locate and select the appropriate environmental focus (Williams, Davids, & Williams, 1999). In football, this involves the ability to selectively concentrate (as quickly as possible) on the most significant environmental signals; those that allow the player to 'read the game', that is, to anticipate the opponents' actions.'
(Source: Farina e Cei, Concentration and self talk in football, 2019)
Breathing has for too long been considered only as a natural event that the individual performs mechanically to ensure survival. Today the sport recognizes the breath a different relevance, to promote relaxation, to recover from stress during the race, to increase concentration and activation of the athletes in the most different situations of their activities. From training to competition, from physical to technical and psychological preparation, deep breathing and spontaneous breathing are useful to improve the effectiveness of the athletes' commitment. Therefore, according to the requests of the different sports, it is possible to insert breathing training modalities. This theoretical-practical workshop aims to bring together experts in the different areas of sports science and athletes in introducing this practice within the usual training activities and competition routines.
The seminar will be held by Alberto Cei and Mike Maric, on February 19, at the Centro di Preparazione Olimpica Giulio Onesti, Largo G.Onesti 1, Rome. Program and registration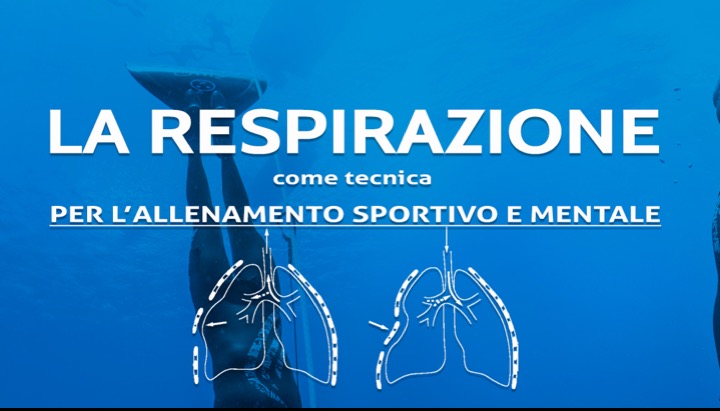 Leopold Auer was an Hungarian  conductor and violinist, he lived between 1845 and 1930, and he was the mentor of the best musician of that period. He teached that the learning is not a question of hours, it needs always the integration between time devoted to the practice and concentration.
"The right kind of practice is not a matter of hours. Practice should represent the utmost concentration of brain. It is better to play with concentration for two hours than to practice eight without. I should say that four hours would be a good maximum practice time. I never ask more of my pupils and that during each minute of the time the brain be as active as the fingers."
10 good reasons to learn to take a deep breath
improves self-control in stress situations
improves the management of physical and mental fatigue
first action to take when you want to relax
precedes the visualization of a technical or competition action
reduces the mental tension and stimulates effective thoughts
promotes muscle stretching during this phase of training
reduces impulsive verbal responses
facilitates immediate recovery after a high intensity exercise
further deepens the focus on the task
reduces pre-race or competitive activation if it's the case
During the training to provide continuous feedback about commitment is a key point to enhance learning. Athletes should be aware about the commitment level they must show during exercises of every training session. The reasons why one should not engage just enough are as follows:
promotes technical errors
leads to a reduced focus on the task
reduces intrinsic motivation
obliges the coach to provide the same technical instructions, because the athletes often repeat the same mistakes and improve slowly
builds the habit to consider improving as something very hard to get
It is the responsibility of the coach:
stimulate the commitment continuously
accept that athletes just because they undertake with great intensity can commit more technical errors
recognize first the commitment and secondly the technical aspects
stimulate in athletes that the improvement comes by personal commitment
teach be aware that the individual technical and motors limits can be discovered only by training with intensity and motivation
teach to be satisfied of the personal commitment, although it not always determines the quality of performance
teach be aware that the quality of performance is related to the commitment and it takes more than talent to be good athletes
teach, in team sports, the intensity is a collective resource that no one should ignore and everyone should encourage the mates
point out even before technical errors any lack of commitment
explain what are the behaviors that show athletes who train with intensity and that we want to watch in our group
Un allenatore di salto in alto mi chiede come sia possibile migliorare la concentrazione nell'esecuzione di questa specialità. Personalmente non ho esperienza diretta di collaborazione con saltatori, comunque provo a fornire alcune idee che chiunque potrebbe seguire e poi valutarne l'efficacia.
Il salto in alto è una prove che si conclude nell'arco di pochi secondi e il cui inizio è determinato dall'atleta nei limiti di tempo determinati dalle regole del suo sport. Pertanto, è necessario che al momento dell'avvio della prestazione il movimento appaia fluido ed efficace e in quegli istanti la mente del saltatore dovrebbe essere libera da ogni pensiero ma lasciarsi portare in modo apparentemente spontaneo dal susseguirsi dell'azione motoria.
Raggiungere questa condizione mentale non è semplice e richiede un allenamento specifico. Nell'allenamento dovrebbero esserci almeno due livelli. Il primo riguarda l'apprendimento e l'ottimizzazione della tecnica di salto, si può ripetere il numero di volte necessario e alla fine si è imparato a saltare. Il secondo livello riguarda la gestione della tecnica nei momenti in cui le emozioni sembrano spaccare il cuore mentre invece si dovrebbe essere totalmente concentrati sul salto da eseguire.
Suggerisco di allenare il timing dell'azione, il saltatore ha un minuto a disposizione per effettuare il salto. Di conseguenza così come nel servizio nel tennis, nei lanci nel baseball o nel tiro a volo, anche chi salta deve avere una routine che rispecchia quel tempo o un tempo inferiore se l'atleta è pronto con un timing di 45 secondi anziché di 60 secondi. Importante che quel tempo sia sempre lo stesso e quindi il tempo scelto diventa una misura del suo livello di concentrazione e della sua fiducia.
Stabilita la routine e il timing (la sua durata) il saltatore si deve allenare a rispettarla e a eseguirla correttamente. Può svolgere esercizi a secco, senza l'esecuzione reale, allenando solo la routine e dandosi al termine di ognuno una valutazione di quanto sarebbe stato pronto a eseguire un salto. Ovvio che se la valutazione è minore di 8 su 10, qualcosa non è andato bene nella sua preparazione e quindi deve lavorare per renderla più intensa.
Questo lavoro richiede passione e consapevolezza  e dovrebbe essere accompagnato da esercizi mentali per allontanare i pensieri che ostacolano la prestazione quali essi siano, anche se  positivi (ad esempio: "Oggi mi sento proprio bene") sono ugualmente distraenti dalla concentrazione sul compito.
Si potrebbe dire molto di più articolando un vero e proprio programma di allenamento della concentrazione nel salto in alto. Magari un giorno con qualche atleta che lo desiderasse si potrà farlo.
The defeats and the tough times have many fathers, too often we see athletes on an athletic field rather than on a tennis court or pool not showing the enthusiasm of staying on the field despite the difficulties. This is one of the secrets of who claims him/herself the ultimate commitment. We must not let go to common errors just because the morale is dropping, we have to train ourself to maintain a high level of mental readiness. Be focused requires a great mental effort, but only if we are predisposed to do it we can know our limits.
The athletes must always remember that what happened first determines what will happen after. So that the emotional state at a given time will determine how will compete immediately after. We should not use as an alibi our mistakes or capabilities of the opponent, we must always be focused on skills and on what it needs to be done. This should be the mental approach to the race, after which each sport requires a specific approach for responding to the needs that requires.