Tag Archive for 'autismo'
Sport for young people with intellectual disabilities, children and adolescents, especially with autism spectrum syndrome is a difficult wall to break down. There are too many dogmatic thoughts blocking the opportunity for the development in this age group, which is critical for the approach that can to provide at their life not only in these years but also for the future as adults.
Sedentary and overweight are the most common outcomes faced by these young people and their families. In Italian school system the young with disabilities are 216,013, equal to 2.4% of the entire population (close to 9 million students).
Of these, 68% are young people with intellectual disabilities.
How many of them practice sports or physical activity continuously? Unfortunately we do not know and this is already a rather serious fact that highlights the limited interest in sport. How many sports organizations are carrying out programs for these young people? Even on this point, information is very scarce and families have not places where to ask about this.
We could continue with many other questions, which at the moment did not find an answer.
Finally, the scientific data, not only in Italy, even internationally are reduced. Rather, it's better to follow the motto: "sport is good, do it". Little is known about the training programs carried out, about the characteristics of the professionals involved, there are no longitudinal studies.
In Italy, Even the recent book on "Good practices in autism" published by the Psychologist Register certainly interesting for the aspects related to diagnosis and relationships between School, Families and Services, ignores sports as a system of empowerment of young people with ASD. It is a pity that they did not inquire about this issue, because sport is instead an essential piece for the development of young people with ASD.
International Journal of Sport Psychology has dedicated a special issue on the subject and anyone interested can request it from the publisher Luigi Pozzi.
We need to work because the word #Autism is much more related to the words #autonomy and #independent Zac and his mum Nura are a great model! @InsideOutWest @BBCOne
Zak Mohamed, aged 20, has severe autism but his mother Nura is determined that he should learn to live as independently as possible.
She sets him the challenge of learning to go shopping at the supermarket and cook himself a meal – something fraught with difficulties for someone with his condition.
The BBC followed Zak to see how he got on.
You can see more of Zak's story on Inside Out West on BBC One on Monday at 19:30 GMT, and afterwards on the iPlayer.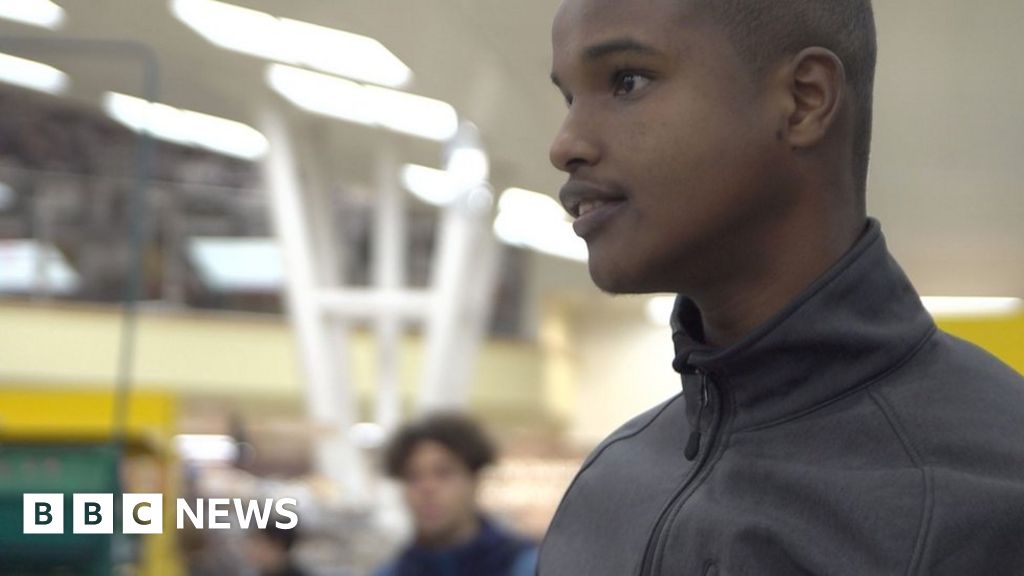 AS Roma now has a special team. Not Dzeko and Di Francesco, but a small team of children with special needs playing football. It's called "Football Together" the project of Roma Cares, the charitable foundation of AS Roma with sport association Integrated Football Academy. At the end of the first three years, they have already doubled in children between 6 and 16 years with disabilities of varying degrees enrolled in the program that aims to convey a football program appropriate to them: they were30in 2015, when the idea became real thanks to the work of persons as Alberto Cei, sports psychologist and scientific manager of " Football Together", today the young are 60."
Since three years from the beginning of the project "Football Together", we will attend in Roma at a tournament of integrated football between our guys and those of Totti Soccer School.

«Spengimi l'autismo che devo fare gol». C'è tutta la voglia di vivere di un ragazzo sbrigativamente etichettato come "diversamente abile" nell'appassionata richiesta — che vale più di uno scudetto — al suo allenatore, che è anzitutto un amico. Con un particolare in più: il ragazzo che «vuole spengere l'autismo per fare gol» gioca nella Roma. Sì sì, la Roma-Roma, quella vera di Totti e De Rossi.
La squadra giallorossa è infatti l'unica al mondo ad aver dato vita al progetto "calcio insieme" che vede sessanta bambine e bambini con diverse disabilità giocare con i loro coetanei tecnicamente così bravi da far parte, appunto, dei settori giovanili della Roma. E non è retorica affermare che non è ben chiaro chi ne tragga più vantaggi.
«Probabilmente tutti allo stesso modo» risponde di getto il direttore generale della Roma, Mauro Baldissoni, che due anni fa ha fortemente voluto questo progetto-pilota, affidato all'Accademia calcio integrato, tanto da considerarlo il fiore all'occhiello di tutte le iniziative solidali promosse dalla fondazione Roma cares.
di Giampaolo Mattei
The sport is increasingly getting closer to the world of youth with autism (ASD) and it can be of considerable help in improving their motor skills and their degree of autonomy, reducing the risk of acquiring a sedentary lifestyle. This review, although published a few years ago, provides valuable information to those who want to propose physical education and sports programs for young with ASD. They are not practical information but those theories, science-based, that who is approaching these young  should know (obviously along with many others).
Motor Coordination in Autism Spectrum Disorders: A Synthesis and Meta-Analysis
Kimberly A. Fournier, Chris J. Hass, Sagar K. Naik, Neha Lodha, and James H. Cauraugh
J Autism Dev Disord (2010) 40:1227–1240
The literature focusing on gross motor behavior and development in ASD is plagued by inconsistent findings.
ASD is associated with greater clumsiness, motor coordination abnormalities, postural instability, and poor performance on standardized tests of motor functioning
Several studies failed to detect differences between children with ASD and those with learning disabilities or mental retardation, general developmental delay and language disorders across reflexive, intentional, fine and gross motor tasks.
These studies provide critical information regarding the types of motor impairments seen in ASD, but the specific patterns and sources of motor deficits in this population remain unclear.
Other approaches to elucidating motor components of ASD include neural signaling. Abnormal transmission in the serotonergic, dopaminergic, and GABAergic systems, frequently observed in ASD, may potentially affect motor performance
Individuals with ASD have larger total brain, cerebellar and caudate nucleus volumes; however, the area of the corpus callosum is reduced.
Several related studies in which motor behavior was evaluated using home videos of children later diagnosed with ASD compared to typically developing children demonstrated motor differences within the first 2 years of age.
This review study showed:
Differences in motor performance observed are not dependent upon a specific diagnosis within ASD. Indeed, individuals diagnosed with autism, globally as ASD, or Asperger's syndrome all possessed significant motor deficits compared to the individuals with normal neurologic development.
An immature postural system may severely limit the emergence and performance of other motor skills.
Movement disturbances such as akinesia, dyskinesia and bradykinesia may affect a person's ability to initiate, switch, continue or effectively communicate, interact socially, or perform activities of daily living.
That motor coordination deficits were more prevalent in individuals diagnosed with ASD than in controls with neurologically typical development.
Consistent evidence for an increase in total brain volume as well as specific brain regions including the cerebral hemispheres, caudate nucleus, and cerebellum in autism. Conversely, the corpus callosum was consistently reduced in size. Moreover, post mortem studies have detailed increased numbers of altered cortical mini-columns that may lead to a less well-organized cerebral cortex and less integration among brain regions reported children with high functioning autism demonstrated diffusely decreased connectivity across the motor execution network relative to children with normal neurodevelopment.
Children with high functioning autism had significantly smaller grey matter volumes in subcortical, posterior cingulate, and precuneus regions than those diagnosed with Asperger's. Compared to controls, smaller grey matter volumes in predominantly frontopallidal regions were observed in high functioning autism where as in Asperger's less grey matter was observed in bilateral caudate and left thalamus. It has been found higher white matter volumes around the basal ganglia in high functioning autism than in Asperger's or controls. Both ASD groups, however, possessed greater white matter volume than controls. Conversely, both ASD groups had less frontal and corpus collasol white matter.
Taken together these mechanistic findings suggest a broad, large area with disarranged neuronal organization and cortical connectivity across ASD.