Archive for the 'Mental coaching' Category
Starting over to train again on the field is not the same as repeating the same things as if nothing had happened - It is a new beginning, and everyone must learn from the experience of these months. For many the races are still a long way off, but the motivation has to be ignited immediately, setting the goals to be ready when the racing season will resume.
Life is a constant change - Determine what changes you want to make and start on the path to achieving them right away.
Accept this unexpected condition - Some people prefer to think, "Why did this lockdown have to happen" and so they cultivate their own victimhood while others think, "Why didn't it have to happen to me? This second approach allows people to live negative situations in an active way, supporting personal motivation and the search for a proactive role.
A new opportunity - Think about why this new training period can be an opportunity for improvement that you would never have had.
Focus on your personal growth - Every situation, therefore even lockdown and the restart of training without competitions, is a stimulus to know ourselves and learn to react with thoughts, emotions and actions. In this way we strengthen our self-control.
Be committed every day - Every day take a step to make your life's dream come true. Many athletes don't cultivate their dreams because they are afraid of being disappointed if they don't realize them. Others take the risk and try their best without any certainty of the end result.
Use mistakes as instructions to improve - It's true that mistakes are the only chance for improvement. Learn to know them and accept that excellent performance is based on correcting thousands of mistakes made so far.
Use appropriate strategies to manage stress - In this time of uncertainty, moments of anxiety, worry, depression, unstable mood are common for many people. This is not the problem, we have to live with our fears. However, it becomes a problem if we do nothing to overcome these moments. Therefore, the mental training practiced daily allows to get out of these negative and limiting mental states of mind.
Share your thoughts - do not put yourself in a condition of psychological distance from people who are important to you. Instead, listen and talk them, share thoughts, feelings and actions.
Be optimistic - Optimism is the art of giving a temporary and not permanent meaning to what happens to us. It is about recognizing that tomorrow will be a better day because of our personal skills that we will use to their best advantage.
When the protest against racism unites people like all of us, the great champions and the sport corporations, maybe it is a sign that we can change. #UnitWeAllWin @Nike #GeorgeFloyd @Adidas @Brooksrunning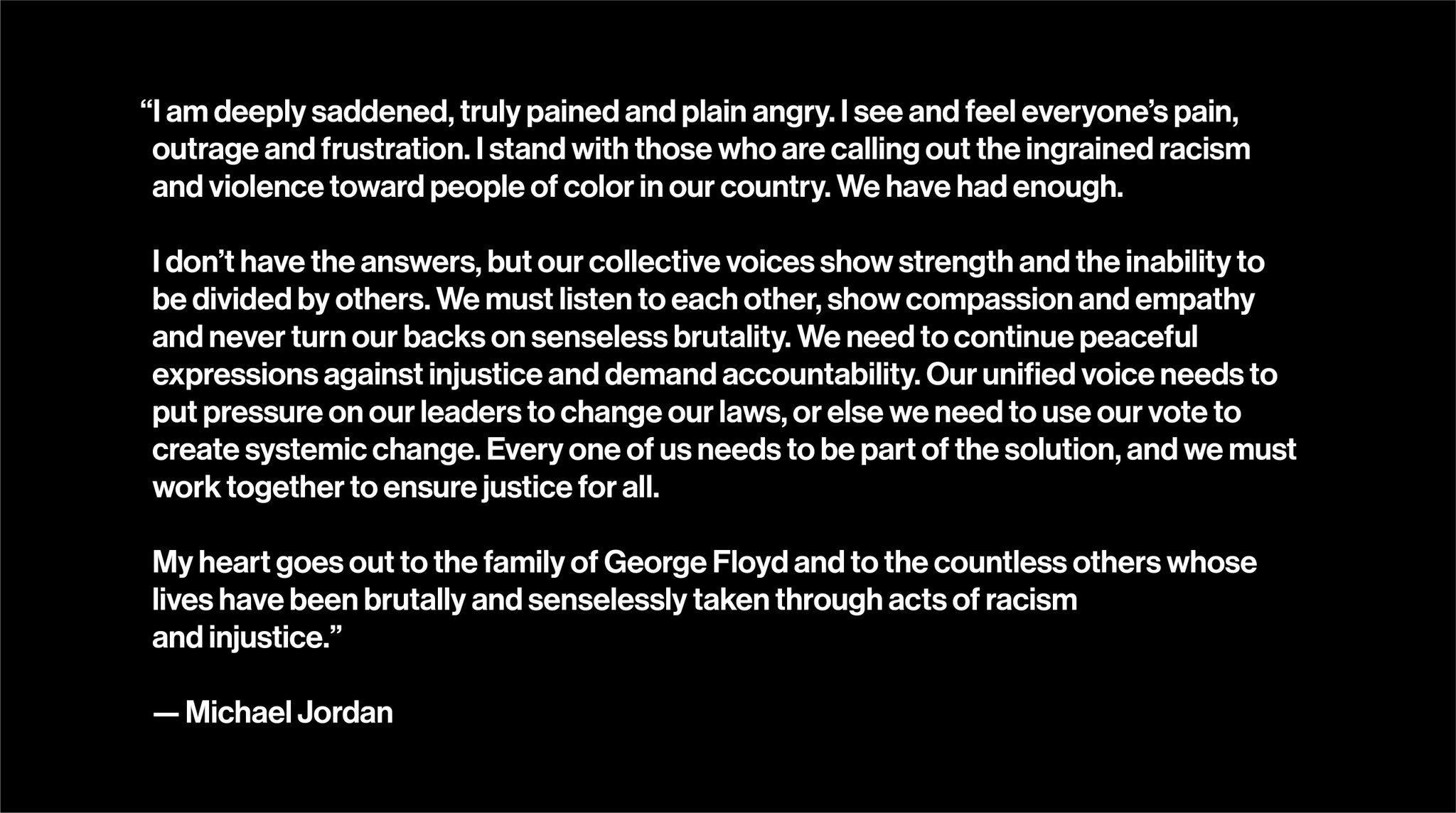 *A guidance report recently produced by the Covid-19 Sport and Exercise Psychology Working Group on behalf of the British Psychological Society's Division of Sport and Exercise Psychology has highlighted three priority areas with which to support athletes.
Mental health and dealing with uncertainty
With many events and competitions postponed indefinitely, with no certain confirmation of when some will resume, this is likely to cause a significant amount of stress for athletes.
If athletes struggle to cope with stress, over time it is likely to have a negative impact on their mental health, especially if they do not seek support or begin to take proactive measures to manage their well-being.
There are several successful psychological strategies which athletes can use to cope with stress or manage their mental health. These strategies may also be effective to help with the uncertainty caused by coronavirus:
Control the controllable(s):
Focus on what is within our control (e.g: exercising and training safely, seeing opportunities for personal development and growth, maintaining physical distancing but maintaining social interactions).
Accept that some sources of uncertainty are outside of our control (e.g: when sporting events will be resumed, when physical distancing restrictions will be lifted).
Accept that feelings associated with stress and anxiety are normal responses to uncertainty.
Maintain a sense of perspective (e.g: given the lockdown restrictions it may not be possible to maintain 'typical' levels of fitness).
Athletes tend to prefer 'problem-focused' coping strategies. However, this approach may not be effective if the source of stress is outside of our control. Therefore, we recommend that athletes prioritise strategies that cope with what is within their control and learn to accept what is outside of their control.
Focus on our responses to the uncertainty:
Practice deep breathing
Use relaxing imagery
Engage in mindfulness or meditation
Listen to music
Develop routines to connect with family, friends, team-mates or coaches about how our feelings
Write thoughts, feelings, and worries down regularly
When faced with sources of stress outside of our control, it is better to focus on regulating your emotions rather than the uncertainty itself.
Use helpful distractions:
Train or exercise (within social distancing guidelines)
Take a walk in a green space-where possible (this has been shown to reduce stress levels)
Take up a new hobby at home
Do an activity with members of your household
Watch television (but be wary of repeatedly watching too much Covid-19-related news stories)
Take part in a virtual quiz
Listen to a podcast
Avoid reminders of cancelled sporting events
Research has suggested that, when unable to compete and train with fellow athletes, distraction and avoidance can be an effective way of coping with stress for some sportspeople.
 2. Maintaining social connections
Covid-19 has resulted in great changes to the rhythm of daily life and to how we maintain social connections and have a sense of belonging. Athletes have a strong professional-identity; created, in part, from the time spent within the organisational structure of sport and socialising with other members.
Feeling connected with others and being part of groups that we perceive to be positive and meaningful is beneficial for our psychological health and well-being.
Therefore, it is important for athletes to consider how narrow or wide their social network is in terms of personal and professional relationships, and who they want and need to maintain communication with, within and outside sport:
Family members
Friends
Peers in sport
Coaching staff and management
By keeping communication channels open and by scheduling regular connections with key individuals or groups it will be easier to raise difficulties before they become more problematic.
Presently in our work with elite sports teams and individuals we have found the scheduling of online coffee chatrooms is an easy way to maintain communication along with sharing daily hassles and concerns, while also maintaining a sense of fun, and dressing room 'banter'.
       3. Motivation and goal setting
Many sports people will have begun this year immersed and focused on high-performance goals that may have represented the culmination of years of dedication and commitment.
The impact of coronavirus and the cancellation and suspension of competitions and training means that these goals are no longer a daily presence and driving force; and for many, are now unobtainable this year.
The sudden loss of this opportunity to achieve our goals combined with isolation, restrictions on social movement, exercise and training can lead to significant mental health issues.
Adopting strategies and adjusting or re-engaging in alternative goals can improve well-being through increasing feelings of self-control.
Create a daily structure and alternative goals for well-being:
Creating new social networks and maintaining contact
Physical well-being, for example sleep patterns, nutrition and Pilates to name a few
Personal development such as learning a new skill, or taking up a hobby
Many athletes also find the use of a reflective diary as a useful and effective way to log their progress, but in the current situation such diaries can be used to disclose worries and anxieties.
The act of writing problems down can be an effective technique to help deal with worries and concerns.
Re-adjust and reframe goals
As athletes look to the future they may also want to think about taking some time to define or redefine mastery goals. Mastery goals are those that focus on self-improvement (getting better at a skill, having insight into why improvement occurred), they help maintain motivation and can provide a sense of purpose as we move into the new normal.
Importantly, when we are setting goals, whether these are to structure our day or mastery goals to aid us moving forward, we must remember to be realistic, use our support network to help achieve the goals and don't be afraid to reach out to our social network for advice and feedback.
Ultimately, the COVID-19 lockdown is an uncertain and stressful time for many people including elite and professional sport performers. The ability to cope with stress, largely depends on our ability to have a flexible mindset along with engaging and adhering to some of the evidence-based principles above.
The present adversity may also offer some an opportunity for reflection and contemplation on work-life balance, life expectations, priorities, and goals.
*This blog was compiled by Dr Jamie Barker, Senior Lecturer in Sport and Exercise Psychology, Loughborough University and the Covid-19 Sport and Exercise Psychology Working Group on behalf of the British Psychological Society's Division of Sport and Exercise Psychology.
You can perform any activity
to promote well-being and develop skills
to train and to compete
but
every motor, sport and mental action is regulated by our breath.
and if I breathe badly, I won't get the results I train for.
Due to the pandemia from coronavirus only in the last three weeks it has been possible to print the International Journal of Sport Psychology.
For this reason and the difficulties of the publishing company to follow through its usual work we get out in May with the issue #1/2020 with the publication of your article.
Now we are going to print IJSP #2 & 3 in the next weeks.
An international study, led by the Universitat Oberta de Catalunya (Spain) spin-off Open Evidence, has revealed that the mental health of 41% of the UK population is at risk as a result of the coronavirus crisis. The research project, which involves the participation of researchers from the Glasgow University, Università degli Studi di Milano, Università degli Studi di Trento, Tilburg University and the Universidad Nacional de Colombia, indicates that almost 60% of the UK population require "the government not only to focus on containing the virus, but also on preventing a major economic crisis".
The data collected in the first survey, which sampled 10,551 people (3,523 in the United Kingdom, 3,524 in Spain and 3,504 in Italy) between 24 April and 1 May, show that most of the population between 18 and 75 years of age report having felt down, depressed, or hopeless about the future at some point during this period: 57% in the United Kingdom, 67% in Spain and 59% in Italy. In the words of Cristiano Codagnone, co-founder of one of the participating entities, UOC spin-off Open Evidence, "the data provides a picture on the impact of the lockdown and we need to be prepared for the associated social and health consequences of that".
The analysis of this data alongside additional factors such as housing type (full ownership, mortgaged property, rental, etc.), living conditions (square metres of accommodation, number of people living there, presence of school-age children), loss of employment, closure of own business, loss of income and access to COVID-19 testing has provided a general gauge in relation to people's state of mental health in the three countries. The results reveal that the mental health of 41% of people in the UK is at risk, with figures of 46% and 42% registered for Spain and Italy, respectively.
Recently I wrote a blog titled "Back to field, how the training without competition?" I said:
These are trying times in any professional field and even sport has had to stop in the face of the Covid-19 pandemic.These first two months of lockdown at home have been really hard for those who are used to spend their days engaged in intense and prolonged training or to travel and participate in competitions. Who better spent this unique time in everyone's life? Probably those who have managed to make sense of their days by recreating their habits and activities within the walls of their homes. For example, from Cristiano Ronaldo to the young junior athletes, to follow a program of physical preparation has been an important moment of their daily life, representing a bridge between yesterday, today and tomorrow.
Set goals. Having new goals is necessary, as this training period has been and will continue to be much longer than usual. Athletes should consider this period as an opportunity to continue to improve. Their goals will not change but the timing of these goals will have to be adapted to the lack of competition.
Be resilient and tough. Knowing how to adapt to this moment of their career is based on these two psychological skills, more than ever essential to maintain a high level of motivation during training. The speed and quality of adaptation will have a major impact on how they will behave in the future. Resilience and toughness with respect to how their competitors are reacting and coping. If they can adapt better than their opponents, then they will return better than before coronavirus period.
Use time wisely. There is much time now, much more than ever. It should be used as an opportunity to work on those skills that are usually more neglected or that they have not been able to work on. For example, the importance of breaks in one's sport to recover physical and mental energy and refocus on the immediate future, develop attentional training and improve in managing one's stress and negative moments.
Sharing. It is always important to have people with whom the athletes share their dreams and fears, goals and obstacles along the track, achievements and mistakes. Physical distance should not involve psychological distance from people who are important to athletes.
To find out more write to me!
Somewhere in a forest someone commented: "How strange civilians are. Everyone has watches and no one has time." (Eduardo Galeano)
The slightest movement is important for all nature. The whole ocean is influenced by a pebble. (Blaise Pascal)
What we learn with pleasure we never forget. (Alfred Mercier)
The issue for me is a different one. I have always thought that a psychologist's use of a psychological strategy/technique, in this case mindfulness, should correspond to an interest not only in developing a skill, learning a technique. It should, in my opinion, be a way to allow a psychologist to acquire further competence in a field of interest.
It seems to me that this strategy and technique falls within those activities that also concern breathing control, the ability to relax, the ability to remain focused on the present represented by a simple or complex stimulus, external or internal to the individual and the ability to use the imagination to organize the visualization of tasks and situations.
My impression is that, instead, one runs the risk of acquiring skills "because in any case I could use them, they are fashionable and can be acquired easily without direct personal involvement".
The idea I want to emphasize is, in short, the following: does the acquisition of professional skills correspond to the development of an organized plan or does it happen in a more spontaneous way on the wave of training opportunities and interests of this moment?