Archive for the 'Libri' Category
When the protest against racism unites people like all of us, the great champions and the sport corporations, maybe it is a sign that we can change. #UnitWeAllWin @Nike #GeorgeFloyd @Adidas @Brooksrunning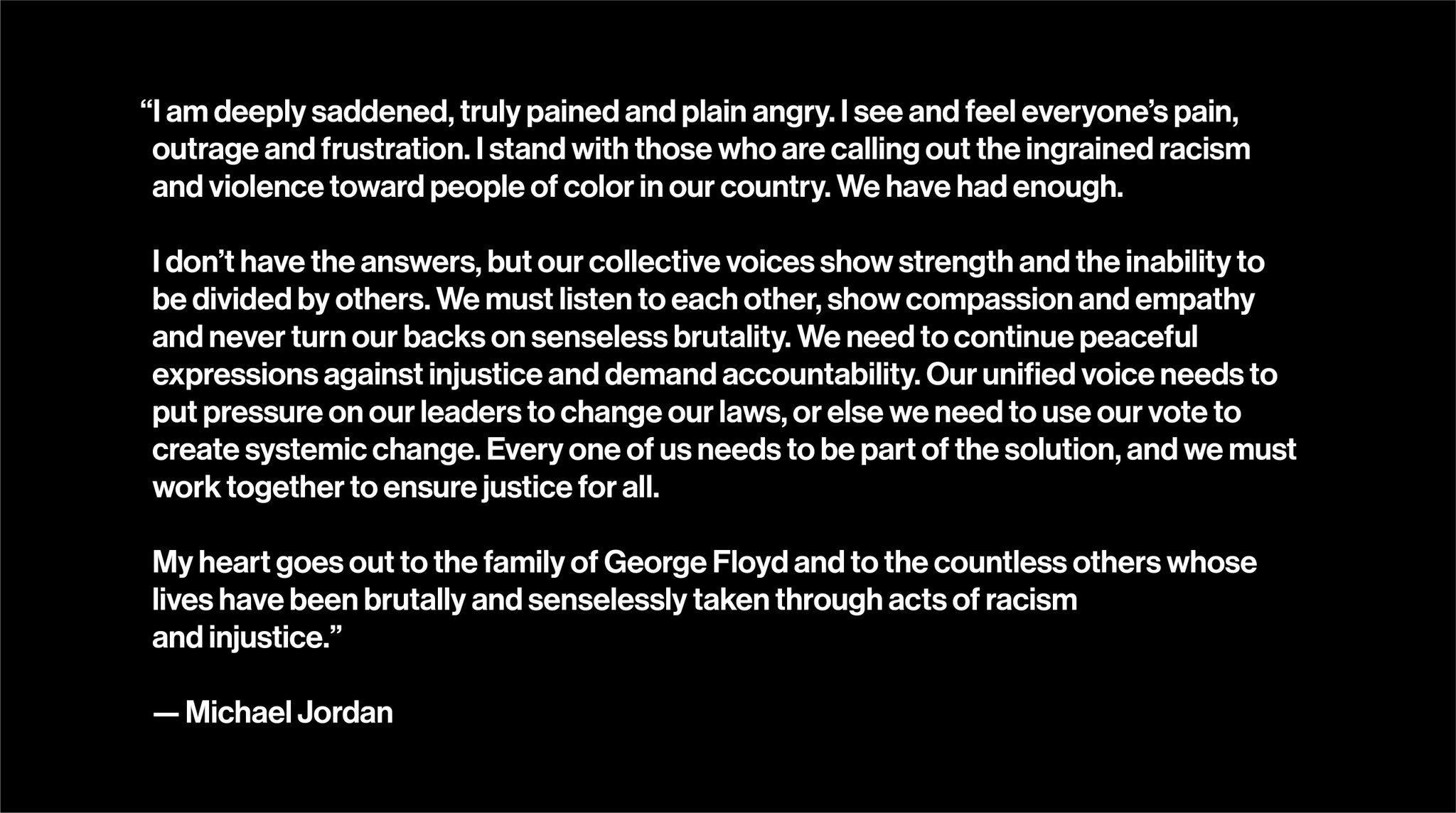 Social distance is a cause of anxiety not always easy to manage. This is the case of Serena Williams, she said:
"Now I've been social distancing for actually a really long time, for probably two weeks now, and every little thing makes me crazy. And by anxiety I mean I'm just on edge. Any time anyone sneezes around me or coughs I get crazy. I don't hang out with anyone, and when I say anyone I mean my daughter.
"She coughed, I got angry and gave her a side-eye. I gave her that 'angry Serena' and then I got sad. I was like: 'Is she OK? Is there something wrong with my daughter? Is there anything I can do?' I just don't know what to do, so instead of being relaxed I'm really under a ton of stress."
It is an example of how difficult is to maintain a constructive self-talk and producing greater confidence on us and reducing irrational fear. Although she is one of the most successful athletes in the history of sport, it is possible to feel intense anxiety. Also in this case it's about playing a game, virtual, not so much against an enemy invisible to us outside, the virus, but the internal one that can dominate us psychologically.
Anxiety must not dominate us otherwise we will not only live the discomfort caused by social distance but we will also live the distance from our positive and confident parts in the future. We have to struggle to give a constructive meaning to our days.
These days it is not always possible to train as we would like because the sports center could be closed, in many sports you need to train with someone else and there is not always this opportunity, because the coaches could have personal problems and so on. Especially younger athletes than senior national team athletes may encounter these difficulties more.
For those at home I would like to give some suggestions to train anyway, even if in a different way than usual.
Set goals - It is necessary to have goals on which to orient the daily commitment, in many sports can relate more to physical and mental preparation, easier to perform at home or in spaces other than the usual training environment. So set what to do, when and for how long.
Physical Preparation - Have your coach send you the physical preparation program you can do at home. Follow it and exchange results, thinking and difficulties with him/her.
Mental Preparation - Use this days to focus more on this type of training. You can train 4 psychological skills: self-control through breathing, concentration on task and performance, imagination of your performance, and have a constructive self-talk. Do it on a daily basis, if you work with a sports psychologist, work together for this program that is good to do on a daily basis. If you would like to use this time to start such a job, you can contact a sports psychologist or write to me through the blog and I will reply.
Videos - Watching videos of other athletes' performances is useful to understand how they face competitions, moments of difficulty, style of play or anything else that may interest you. Watch videos driven by a specific target and not like a fan.
The term oplita indicates Greek heavy infantry soldiers equipped with the characteristic shield called oplon.
During the 8th century b.c. the hoplites in battle operated in tight ranks forming a metal wall from which the long spears emerged and this formation was so effective that the role of light infantry, cavalry and war chariots was greatly reduced in Greece. The war philosophy of the oplite was based on moderation and mutual aid and not on the valorous feats of a hero, in fact there are no holograms in Homeric poems.
Today we should do the same thing, finding courage to stand together and move forward.
Raising our eyes above everyday life helps us to live it with greater acceptance and to give meaning to our actions and thoughts that not only makes immediate sense but expresses a deeper way of being.
Eduardo Galeano helps us a lot in this work and through him we know the experience of another unique, Albert Camus.
"Nel 1930 Albert Camus era il San Pietro che custodiva la porta della squadra di calcio dell'Università di Algeri. Si era abituato a giocare da portiere fin da bambino, pecche quello era il ruolo in cui meno si consumavano le scarpe. Di famiglia povera, Camus non poteva concedersi il lusso di correre in mezzo al campo: ogni sera la nonna gli controllava le suole e gli dava una solenne lezione se le trovava consumate.
Durante i suoi anni da portiere. Camus imparò molte cose: – Ho imparato che il pallone non va mai verso un giocatore dove lui si aspetta che venga. Questo mi ha aiutato molto nella vita, soprattutto nelle grandi città, dove la gente solitamente non è quel che si dice retta -.
Imparò anche saggezze difficile: a vincere senza sentirsi Dio e a perdere senza sentirsi spazzatura, e capì alcuni misteri dell'anima umana, nei labirinti della quale seppe successivamente indagare, in un pericoloso viaggio lungo il cammino dei suoi libri".
(Eduardo Galeano, Splendori e miserie del gioco del calcio, p.66)
Our thinking must be that something done right can be done better
Outdoor Adventure Educatioin Finland
Pedagogical and didactic perspectives
Seppo J.A. Karppinen, Maarit Marttila and Anita Saaranen-Kauppinen (Eds.)
Humak University of Applied Sciences Publications, 97
Humanistinen ammattikorkeakoulu, 2020, Helsinki
"In this book, outdoor adventure education refers to an approach where adventure-centred methods and processes are used to promote growth, learning and well-being. Out- door adventure education can be im- plemented by an educator, instruc- tor, teacher or therapist who leads a group consisting of children, young people, adults or elderly people, or comes into contact with individuals by means of adventure-oriented or experiential activity-based methods. Outdoor adventure education can be applied in early education, youth work, schools and colleges, and re- habilitation.
There is little literature on the didactics of outdoor adventure education.The aim of this compilation is to clarify and promote the theory and practice of experiential learning in the varied pedagogical process- es of outdoor adventure education. This will help educators and instructors to carry out goal-oriented and safe outdoor adventure education.The focus is on ad- venture education taking place outdoors and in a natural environment (Outdoor Adventure Education). Attention is also paid to the importance of outdoor ad- venture education on the strengthening of the overall well-being and health of an individual and their attachment to a place and relationship with the environment and nature, and on the promotion of ecologi- cally sustainable human agency.
The articles in the first part of the book focus on the history of Finnish outdoor ad- venture education, and the starting points, basis and current state of pedagogics and didactics.
The second part digs deeper into the essential questions of the pedagogics and didactics of outdoor adventure education. The articles shed light on the presumptions and principles associated with outdoor adventure education, and explain why outdoor adventure education is useful and how it can be instructed and taught in practice.
In part three, the focus is on practical methods and didactic applications from the perspective of various age groups, contexts and application areas.The writers of the articles have extensive experience in using, instructing and teaching outdoor adventure education, and the articles will thus provide an array of useful and tested approaches and methods."