Archive for the 'Libri' Category
A growth-oriented mindset is revealed when an athlete is convinced that his/her most basic skills can be developed through dedication and hard work, with the knowledge that intelligence and talent are only the starting point. This idea of themselves lays the foundations for researching and appreciating learning and creates a resistance to adversity essential to achieving a great result.
Based on these ideas, one can say that an athlete with a growth-oriented mentality in his/her daily life and in the most stressful events demonstrates these beliefs:
You grow up, you learn.
Intelligence and talent are the basic start point of any success story
Challenges and mistakes are the only opportunity to learn
Maximum commitment, greater competence
Time and hard work are the best ways to improve
Giving up on commitment is the only real kind of failure
Setbacks are a sign of the need to work harder and more consciously
Competitors' success is stimulating and motivating
Failure is the best learning tool
Feedback and criticism are essential for progress and development
How often do you think like that?
It would have been a great time, probably I would have gone to Tokyo, to the Olympics with the Chinese shooting team, after a year working with them since the 2019 World Championships. I would also have followed some Italian athletes. Like the athletes I was preparing for this unique event, the Olympics, which I have always participated in with federations or individual athletes since Atlanta 1996.
I still keep the T-shirts of each edition and the memories of the most important moments are very clear and vivid in my memory. For example, when the president of shooting told me: "Doctor, are you always so calm?" I said, "Mr. President, if you see me anxious, you'll start to worry." I had experiences that I would never have imagined, athletes men and women, who won a medal in the final, who two hours earlier were in panic, nausea, pure terror of not knowing what to do to win. I had to talk to them, certainly not giving them a pat on the back or telling them not to worry that they were strong.
Almost always the coaches let me talk with them saying: "Alberto, you take care of it". I lived those moments listening phrases like: "I'm so terrified that I seem calm", "I'm not going out of here, "I'm going home", "Tell me what to do", "If I try to imagine what I'm going to do, I think all wrong", "I've been through the final a thousand times and now I'm just nervous".
The first time, in Atlanta, I wasn't ready to face a situation like this. I had thought about what unexpected events might happen but I hadn't anticipated the panic in a finalist's mind less than one hour from the start. Luciano Giovannetti, the team's head coach, winner in the past of two gold medals in Moscow and Los Angeles, told me: "You're the psychologist, you talk to him". I went to where the shooter was eating something and he told me he didn't want to leave the tent for the final, total panic. At that point he was really close to the start of the competition and I began to talk reminding him of all the sacrifices he had made in those years to arrive prepared for this moment, the decisive one. I spoke to him for a few minutes during which his mood changed, he found the vitality necessary for an Olympic final. When he started the final, he missed one of the first clay pigeons and he turned around looking back. Then he told us that he had said these words: "If you quit now, you're an asshole, just concentrate!". It worked, he won the silver medal.
From this experience I learned that it's really true that the winners are the ones who go through this emotional hell and control it. Second lesson, the staff is also decisive for the winners, otherwise they run the risk of succumbing, just when they have to face the decisive moments of a race.
The Olympics are one of the three most important sporting events, along with the Football World Cup and the Tour de France. In Italy our top athletes, called "Probable Olympics" are about 800, of these about 300 participate in the Olympics, less than half are among the top 10 in the world of their sport and usually, Italy wins 25 medals, putting us among the 10 most winning nations. In essence, there are about twenty top athletes who have won medals at the Summer Olympic Games on a starting base of about 800. This data highlights the extreme difficulty of achieving such a success. It allows us to understand the immense joy of those who win a medal but also the immense disappointment of those who, despite their skills, have not succeeded. It is not rhetorical to say that the Olympics have an immense value for each of them and that more and better should be done to develop and safeguard the talent, the health and motivation of these people we call athletes.
Un libro dedicato a tre grandi della protagonisti della scienza dello sport e dell'allenamento nell'atletica leggera.
Segui il webinar della FIDAL di presentazione del libro venerdì 12 giugno alle 14.30
My books. Read to know.
When the protest against racism unites people like all of us, the great champions and the sport corporations, maybe it is a sign that we can change. #UnitWeAllWin @Nike #GeorgeFloyd @Adidas @Brooksrunning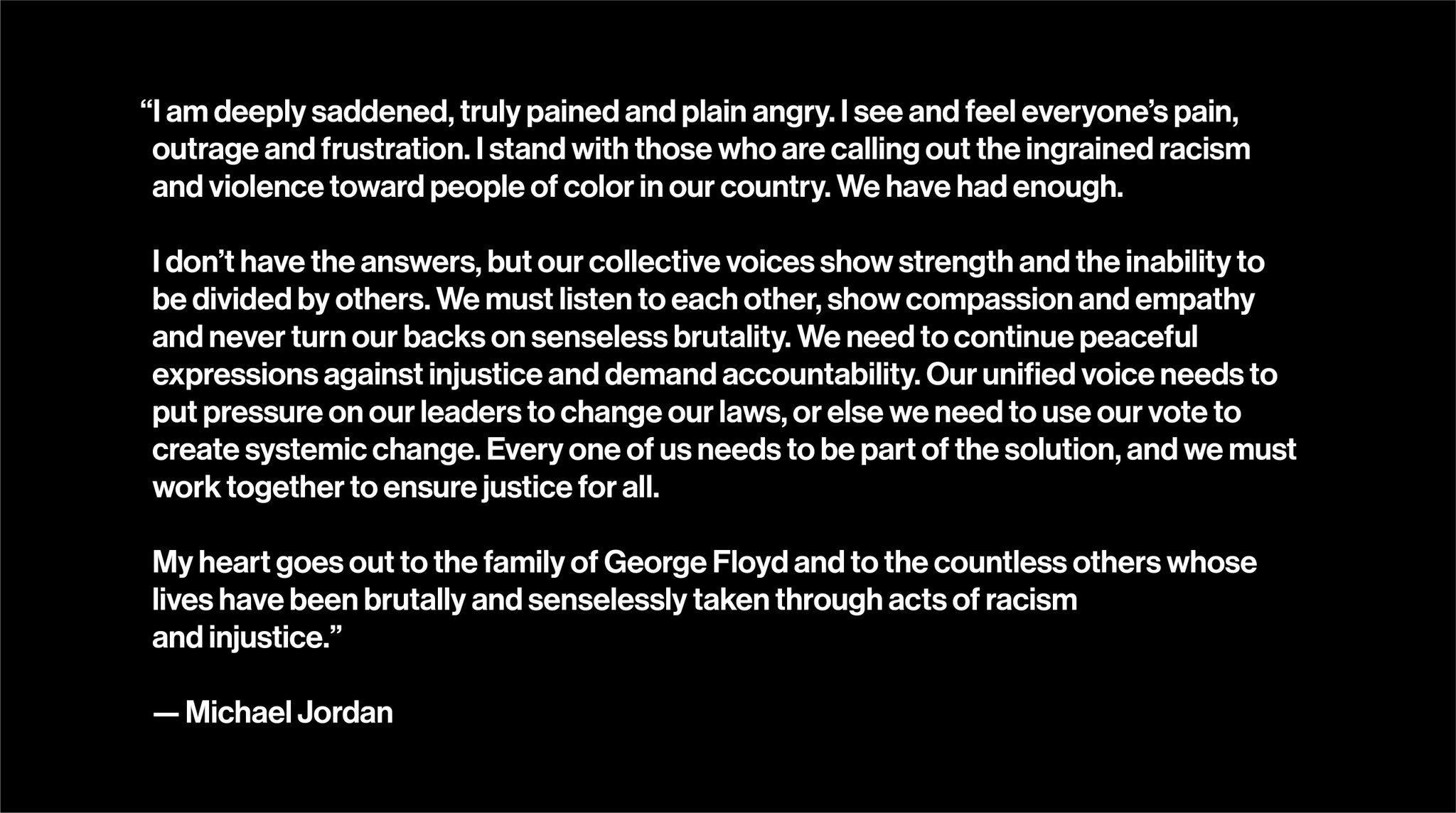 Social distance is a cause of anxiety not always easy to manage. This is the case of Serena Williams, she said:
"Now I've been social distancing for actually a really long time, for probably two weeks now, and every little thing makes me crazy. And by anxiety I mean I'm just on edge. Any time anyone sneezes around me or coughs I get crazy. I don't hang out with anyone, and when I say anyone I mean my daughter.
"She coughed, I got angry and gave her a side-eye. I gave her that 'angry Serena' and then I got sad. I was like: 'Is she OK? Is there something wrong with my daughter? Is there anything I can do?' I just don't know what to do, so instead of being relaxed I'm really under a ton of stress."
It is an example of how difficult is to maintain a constructive self-talk and producing greater confidence on us and reducing irrational fear. Although she is one of the most successful athletes in the history of sport, it is possible to feel intense anxiety. Also in this case it's about playing a game, virtual, not so much against an enemy invisible to us outside, the virus, but the internal one that can dominate us psychologically.
Anxiety must not dominate us otherwise we will not only live the discomfort caused by social distance but we will also live the distance from our positive and confident parts in the future. We have to struggle to give a constructive meaning to our days.
These days it is not always possible to train as we would like because the sports center could be closed, in many sports you need to train with someone else and there is not always this opportunity, because the coaches could have personal problems and so on. Especially younger athletes than senior national team athletes may encounter these difficulties more.
For those at home I would like to give some suggestions to train anyway, even if in a different way than usual.
Set goals - It is necessary to have goals on which to orient the daily commitment, in many sports can relate more to physical and mental preparation, easier to perform at home or in spaces other than the usual training environment. So set what to do, when and for how long.
Physical Preparation - Have your coach send you the physical preparation program you can do at home. Follow it and exchange results, thinking and difficulties with him/her.
Mental Preparation - Use this days to focus more on this type of training. You can train 4 psychological skills: self-control through breathing, concentration on task and performance, imagination of your performance, and have a constructive self-talk. Do it on a daily basis, if you work with a sports psychologist, work together for this program that is good to do on a daily basis. If you would like to use this time to start such a job, you can contact a sports psychologist or write to me through the blog and I will reply.
Videos - Watching videos of other athletes' performances is useful to understand how they face competitions, moments of difficulty, style of play or anything else that may interest you. Watch videos driven by a specific target and not like a fan.