Archive for the 'Libri' Category
"Coach Wooden and Me"
is a stirring tribute to the subtle but profound influence that Wooden had on Kareem Abdul-Jabbar as a player, and then as a person, as they began to share their cultural, religious, and family values while facing some of life's biggest obstacles. From his first day of practice, when the players were taught the importance of putting on their athletic socks properly, to gradually absorbing the sublime wisdom of Coach Wooden's now famous "Pyramid of Success"; to learning to cope with the ugly racism that confronted black athletes during the turbulent Civil Rights era as well as losing loved ones, Abdul-Jabbar fondly recalls how Coach Wooden's fatherly guidance not only paved the way for his unmatched professional success but also made possible a lifetime of personal fulfillment.
Full of intimate, never-before-published details and delivered with the warmth and erudition of a grateful student who has learned his lessons well, it's at once a celebration of the unique philosophical outlook of college basketball's most storied coach and a moving testament to the all-conquering power of friendship.
After 25 years of collaboration and friendship we take a photo with Claudio Mantovani, scientific manager School of Sport, Italian Olympic Committee, and editor of the new book for coaches "Insegnare per allenare" ("Teach to coach"), published by SdS-Coni.
Ai vostri posti 
Il mondo, lo sport, le Olimpiadi. I campioni che hanno vinto e quelli che non ce l'hanno fatta
Valerio Piccioni, Gianni Bondini, Ivano Maiorella e Nicola Sbetti (Eds.)
Edizioni BookLab, 178 pagine a colori
The book can be requested at:
Ufficio stampa e comunicazione UISP, email: uisp@uisp.it  tel.+ 39 06 43984305.
This book, published in 2016 Olympic year, contains biographies of about 50 champions of sport and humanity, They played a role in the sport history while not necessarily won the gold medal.
The Olympic year is an opportunity to re-read the Games through the lens of the social value of sport. Starting with the stories of champions who have won despite not having arrived first, women who made off in a historically male chauvinist, athletes and world symbol of the long March of rights, equal opportunities, anti-racism. "Here are the Pipers of this story: they are often the winners is inevitable but can sometimes also be the losers –  writes in the opening of the book Valerio Piccioni, journalist – the readers have not to expect a single story, capable of saying anything at all. Rather, stories to discover or rediscover, that deserve to be told, helping us to understand the world." The index of the book is very spread and divided into chapters evoking suggestions that they do read in one breath.
"War and peace" where we talk among more of the rivalry and friendship that did not like Hitler between American Owens and German Long, or the history of Zatopek between victories and Russian tanks, or that one of Black September and the Munich Olympics. "Losers or winners?" the Dorando Pietri's story and the Games lost, to Ron Clarke, the Kenyan champion who was told he could never run. "Olympic challenges teachers of history" whenTito beats Stalin on a soccer field in 1952, the Hungarian war and water polo, the baseball match United States of America-Cuba at Olympic Games Atlanta.
These 13 chapters show how history, sport, society and culture constitute together an inseparable relationship. It's a book for everyone, for those who love sports and want to understand its deeper meaning, beyond the current trends, but it is also a book for those who think that sport is a simple exercise, without understanding the value for the development of the human being. Finally, it's a book where it's showed that sport is an expression of the culture in which we are immersed and sometimes expressed, as in all forms of abuse which we know, the worst values of our society. For these reasons, sport needs to be defended, to spread its constructive role in the development of the culture where we live. "Ai vostri posti" provides precisely this contribution and the only regret is that it has not been found a wider diffusion as it deserves.
30 years ago I published my first book of sports psychology. Mental Training illustrates a psychological preparation program organized at 8 weeks. As John Salmela wrote in 1992 in The World Sport Psychology Sourcebook: "Mental Training is an original initiative that resembles many of the North American applied sport psychology" how-to "books". The book, in fact, is designed for athletes with the intention of providing tests for evaluation of some basic psychological skills and their competitive behavior and mental skills to teach about goal setting, relaxation, ideomotor training and concentration. This book is practical and useful to psychologists who want to approach the world of competitive sports, providing a system allowing to program the intervention through tasks and abilities to develop weekly. It's a book that is based on my professional experiences carried out in previous years with club and national volleyball teams. In those years, it was already available a relatively broad scientific literature, showing the effectiveness of mental training for elite athletes. At this regards, Psychological Foundations of Sport edited by John Silva and Robert Weinberg (1984) can be considered the best psychology book of that period, a part of the book (5 chapters) was centered on issues related to stress management. So it was not difficult to find a scientific basis to the program that I had developed. In relation to the duration of 8 weeks, I decided to make this choice because Richard Suinn, who first introduced in 1971 in North American alpine skiing a program of competitive anxiety management through integration of relaxation with ideomotor training (which he called: visual-motor behavior rehearsal) based on 10 sessions, like a brief psychotherapy. I thought it was necessary for a longer period and I turned over a two-month. period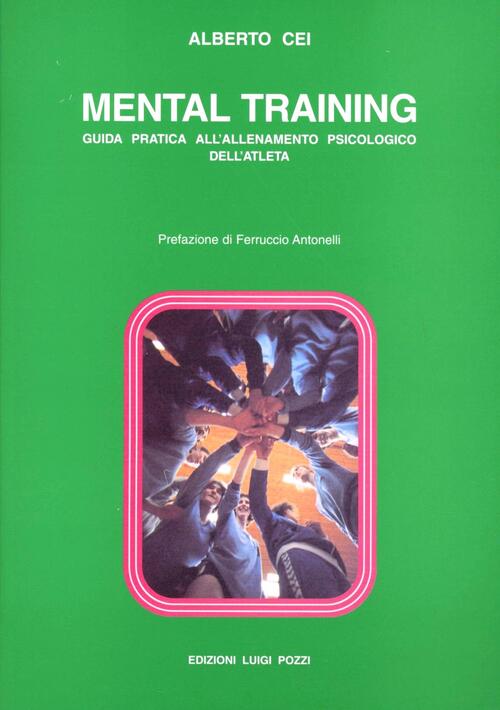 Sorry, this entry is only available in Italiano.
Insegnare per allenare 
Metodologia dell'insegnamento sportivo
Claudio Mantovani (a cura di)
Roma: Edizioni SDS, CONI
2016, p.379, 30 euro
In un mondo sportivo sempre più specializzato è necessario che anche l'insegnamento dello sport risponda alla stessa esigenza. L'allenamento non è solo una questione di perfezionamento della tecnica sportiva ma perché sia efficace è altrettanto importante che il modo in cui si allena abbia la stessa attenzione. Come sempre bisogna sapere cosa fare ma allo stesso tempo bisogna sapere come fare, cioè come trasmettere i contenuti tecnico/tattici sportivi. Pertanto questo libro, scritto da esperti in questo ambito, va a coprire questa necessità.
Contenuti
Le competenze didattiche del tecnico sportivo – Claudio Mantovani
La comunicazione efficace – Alberto Cei
La motivazione nelle attività sportive – Claudio Robazza
L'apprendimento delle abilità motorie – Laura Bortoli e Claudio Robazza
La didattica: L'insegnamento delle tecniche – Laura Bortoli e Claudio Robazza
Il processo di osservazione nello sport – Alberto Cei
Lo sport giovanile e il rapporto con le famiglie – Laura Bortoli
La valutazione delle abilità motorie – Franco Merni
Il valore del gioco come strumento educativo – Paolo Seclì
L'etica nello sport – Emanuele Isidori
La formazione dei tecnici sportivi – Claudio Mantovani
Soccer Speed
Richard Bate and Ian Jeffreys
2015, pp. 216
Champaign, IL, Human Kinetics
Why is Speed so important in today's soccer?
Definitely during its history, soccer has changed in the rules of the game, in sportswear and footwear, in game organisation. But there are other key factors that differentiate modern soccer:
Today's game is quicker; specifically, both ball speed (as it travels from player to player) and players own movements are much faster than they were even just 10 or 15 years ago.
Players now regularly cover distances between 9-14 km per game, because they are running faster and moving more often.
The game features of today's attack are the accuracy and speed to pass the ball.
The typical characteristic of a player has also evolved into a quicker, more agile and physically sculpted athlete.
So Speed is a vital commodity for players who want to maximize their performance.
In soccer we're talking about Game speed, in other words the speed requirements for soccer are different compared the practice by track athletes; indeed, the player during the game moves in an open environment in which distance, direction and starting pattern all vary from moment to moment. In addiction, the athlete's movements need to be linked with game skill requirements. Maximum speed and Acceleration (two important terms related to running speed) are performed to accomplish a soccer-specific task, such as shooting, tackling, dribbling or passing. Players are also required to change direction more than a 1000 times per game, exactly every 6-7s. Those directional movements are closely linked with the high speed actions. So it's important the development of Agility too. For modern players Speed and Agility are two key components that contribute to the ultimate quality of performance.
Speed is important for decision making of players. The game rarely presents exactly identical situations, especially in free play, so the abilities to think and decide at speed, to act at speed, and to change decision at speed are crucial to "build" an intelligent player.
Development of Speed and Agility starts with young players coaching, remembering the essential of sensitive phases, in other words the "fertility" moments of development of physical abilities. We can start to stimulate the abilities of reaction and movements frequency (Cyclic speed) at 6 years old, even if the peak is between 9-11 years old. The rapidity of isolated movements (No-Cyclic speed) and Acceleration have their sensitive phase during 11-14 years old. After those years Speed and Agility will tend to stabilise and then decrease. So it's vital to create right training programs that help players to maintain this capacity to high levels, remembering and following the elements of a Game speed program (technical and physical development) and the right Game speed exercise progression.
(by Michele Rosci)