Tag Archive for 'rugby'
Another study showing again that the mental disorders are very common in the professional sports.
Abstract. The aim of the study was to determine the prevalence of symptoms of common mental disorders among professional rugby players across countries. A cross-sectional analysis of the baseline questionnaires from an ongoing prospective cohort study was conducted. Nine national players' associations and three rugby unions distributed questionnaires based on validated scales for assessing symptoms of common mental disorders. Among the whole study sample (N=990; overall response rate of 28%), prevalence (4-week) of symptoms of common mental disorders ranged from 15% for adverse alcohol use to 30% for anxiety/depression. These findings support the prevalence rates of symptoms of common mental disorders found in previous studies among professional (i. e., elite) athletes across other sports, and suggestions can be made that the prevalence of symptoms of anxiety/depression seems slightly higher in professional rugby than in other general/occupational populations. Awareness of the prevalence of symptoms of common mental disorders should be improved in international rugby, and an interdisciplinary approach including psychological attention should be fostered in the medical care of professional rugby players. Adequate supportive measures to enhance awareness and psychological resilience would lead not only to improved health and quality of life among rugby players but arguably to enhanced performance in rugby.
This picture, credit of Getty Images, tells a great story of the battle of Twickenham.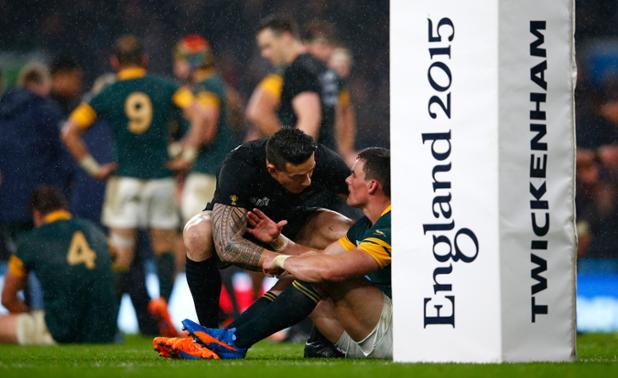 The third time in rugby is the moment in which the opposing teams and fans gather to eat and drink together, exchanging thoughts and opinions, beyond who won and lost. The third time celebrating something more important than a competitive match:  mutual respect and fair play, all qualities that have made ​​this sport first in sportsmanship.
In recent years, youth and school division of Italian football federation has included in its official document provided to the clubs at the beginning of the seaon, the promotion of the third time: "The Youth and School Division promotes the organization of the Third Time Fair Play. During the Third Time "FAIR PLAY", the two clubs and families make available to the participants snacks to share among them, spreading naturally the invitation to the coaches, managers and parents involved in the match. In this way, the Youth and School Division wants to disseminate the values ​​of fair athletic competition."
The introduction of the third time in football has been much criticized because the less than correct behaviors that characterizes the Italian football, little befitting with the tradition of rugby fair play. I believe that young players do not need to pay the expenses of adult football and for this reason, if football does not know how to teach to himself the fair play, it must learn from those who have most deeply rooted traditions. I remember it to the presidents of the football schools, leaders, and parents who often forget that and even more often ignore the existence of the third time. It is not a theft of football, I see it rather as a sign of reflection of a sport first in popularity, which borrows from those who know more. Much of my work is to provide psychological tools to the adults involved with the young players to ensure that their sport experiences will be the best, and if  the tird time can be an additional tool to send a positive message, then we have to promote it. Today the professional soccer does not know how to sustain the third time, while children can do being an example for the players. People too often forget that real change can only happen in football from its roots: the football schools.
(by Daniela Sepio)
Le Mete dell'Allenatore
Flavia Sferragatta
Il libro di Flavia Sferragatta è particolarmente interessante per diverse ragioni. La prima delle quali è che permette di comprendere quali siano le implicazioni psicologiche del rugby. Chiunque voglia avvicinarsi alla conoscenza della componente mentale di questo sport, con questo libro, potrà sviluppare una conoscenza approfondita di questi aspetti. Un secondo pregio consiste nel trattarli dal punto di vista delle loro applicazioni professionali. In tal senso, allenatori e psicologi possono trovare descritti non solo gli atteggiamenti e le competenze psicologiche tipiche del rugby ma anche indicazioni operative "su cosa è meglio fare" in funzione degli obiettivi che s'intende perseguire. Un terzo aspetto centrale del libro risiede nelle molte citazioni di rugbisti e allenatori che permettono a Sferragatta di illustrare le tematiche psicologiche, con il risultato di fare emergere  in che misura allenatori e giocatori di alto livello sono assolutamente convinti del ruolo giocato dalla mente e di come le competenze interpersonali della squadra siano al centro delle prestazioni sul campo. Non ultimo aspetto positivo di questo libro è che si legge con facilità e piacere. Ciò non significa che i temi esposti siano semplici ma che l'autrice oltre a dimostrare un'approfondita conoscenza di questo sport e della psicologia ha saputo esporre il suo pensiero con chiarezza.
I publish with pleasure part of an article of Debbie Jevans, new CEO of England Rugby
"Women in sport is not rocket science. Women make up 50% of the population. Ignoring one half of the talent pool in this country does not make good business sense. Getting more women into senior positions in the sports industry is not a "female thing". It is just common sense. The fact that our Rugby World Cup team is 50% female is great and is a result of interviewing widely and recruiting the best people – men and women – for the job. The barriers so often cited as reasons why women cannot progress in their careers, such as motherhood, are outdated. The workplace is changing. It is dynamic and flexible. In a modern world it needs to be. The leadership of any ambitious organisation has to be open-minded.
… UK Sport and Sport England set a target for all sports governing body boards to be made up of 25% female directors by 2017. For most of my life I have actively disagreed with targets and quotas for women but where a target can be helpful is that it shows ambition. And that is important.
Is 25% ambitious enough? I do not think so. Surely we have to be aiming at 50%, to reflect the population. I am absolutely not saying give women jobs for the sake of it. I would never advocate that. But I do think we need to create the opportunity for women to shine. And that is about sports organisations proactively encouraging women to join their workforce. Seeking out female talent when they are recruiting. The talent is out there, the problem is that too often the default position is to see jobs in sport as male. When you think of the many remarkable women working in British sport right now that attitude is misplaced. Just look at the talented women on this list.
… I believe that being an athlete has given me an essential skillset that translates into running an organisation. That is not just my view, a report published in America last year told a compelling story of women with sports backgrounds – from Hilary Clinton to Christine Lagarde – reaching senior positions in their industry.
I know absolutely that my own career as a tennis player has influenced the way I work today. As a player you could never go on court with anything left in doubt. If I hadn't practised my backhand 200 times to take the ball earlier, I would be exposed in a match situation. The same thinking was applied in delivering the Olympic and Paralympic Games. We did not leave a stone unturned. And that is why I believe I have been successful in my career. I am always looking to learn and to improve – it is the athlete in me."
Cristiano Ronaldo and Jonny Wilkinson show us with their ability in kicking the ball how important it is to have a routine whenever you are in a position to make a free kick in soccer or rugby. The video you find highlights the similarities between these two players and the need to train this skill. How many coaches teach their athletes following this procedure? In just a few!
The first news is that Jonny Wilkinson is passionate about quantum physics. "All my life I have been obsessed with achieving perfection and was disappointed. Until one day I started looking for another way to get a different perception of the world and my work. First of all, I turned to Buddhism (…). And shortly after I found out that there were ties between my work and quantum physics. "In particular, to have fascinated Wilko is the Heisenberg uncertainty principle. The German scientist said that in certain fields natural laws do not lead to a complete determination of what happens in space and time, the occurrence depends form the game of chance. "If even in quantum physics not everything is controllable, Wilkinson must have thought, why should it be rugby? Better to relax." There's a first level that you can handle: the ball. If you kick the ball a hundred thousand times, in the end I can reach the same result in the game. And little by little I feel I can control everything. Then there is a second level, in which many things are inscrutable, in which another part of me is called into question, the part about instinct, deep emotions. And that's where I can really be myself, connect to the world, and even learn something new." So it turns out that, paradoxically, for Jonny the kick is the least interesting of rugby. At one point, describes him as "a work from postman."