English football moves to promote a national campaign to promote mental health.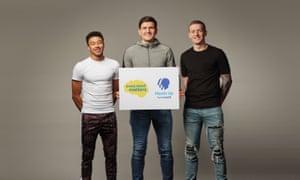 In the stadiums, before the game there will be showed a video in which Frank Lampard, Chelsea's manager, will admit that his family "stored a lot of emotions, feelings and sometimes anxiety", and his former teammate Joe Cole will describe how he practiced yoga when he felt anxious, "centering himself and getting back to the zone."
Many footballers have developed a desire to help others like Tottenham's Dele Alli: "There are so many people struggling with their mental health, so I want to help people understand that they don't have to face it alone."
Team supporters in particular are mostly men, around 15 million, who with great difficulty admit they have mental problems and usually are not committed to dealing with them. The message of the players easily will reach a very large audience and will be of great help because it comes from other men, who are part of the teams whose fans they are.
Similar statements come from managers like Slaven Bilić, West Bromwich Albion, who said that without a good mental condition he would not be able to transmit energy and ideas to his players. And Rosella Ayane, a Tottenham player, explains: "Turning off your mobile phone, Twitter and Instagram allows you to live fully your time  and only in this way you make a big difference."