Tag Archive for 'razzismo'
Black athletes move not only in team sports but also in tennis and many others like Lewis Hamilton in Formula with unexpected results, involving the NBA and in this case Mercedes, in support of the anti-racist movement.
Excellent actions that we hope will also serve to change the politics.
"Mercedes will run the Austrian GP (July 5) and the entire 2020 Formula 1 championship with an all black livery, instead of the traditional silver one, to support the battles against discrimination and racism. It is a very strong message that launches the world champion team, on the front line alongside Lewis Hamilton. The six-time World Champion has taken to the field in favour of the black community, committing himself personally for civil rights".
"In recent weeks the Black Lives Matter movement – explains the team – has turned a light on how much more needs to be done to fight racism and all forms of intolerance. We too have learned from it to build a new future. We are open to diversity but also aware that within our organization only 3% of workers belong to ethnic minorities and only 12% are women. We need to find a new approach to reach areas of society and new talent where we are not yet." (Source: Corriere della Sera, Daniele Sparisci)
Black Track Athletes Share Their Encounters With Racism in America
A roundtable of stars at the core of the sport detail their experiences with racism, what it's like to be Black in America and their hopes and fears for the future.
The violent killing of George Floyd by a Minneapolis police officer and the ensuing protests across the country have propelled nationwide activism and amplification of Black voices. Over the last week and a half, people have entered a period of self-reflection, reading, and talking and listening to the experiences of Black people in America. The conversations are new (and sometimes uncomfortable) and they are happening everywhere, including in a house of nine professional athletes training in Boulder, Colo., for next year's Olympics.
Amazing interviews and article by Sport Illustrated.
When the protest against racism unites people like all of us, the great champions and the sport corporations, maybe it is a sign that we can change. #UnitWeAllWin @Nike #GeorgeFloyd @Adidas @Brooksrunning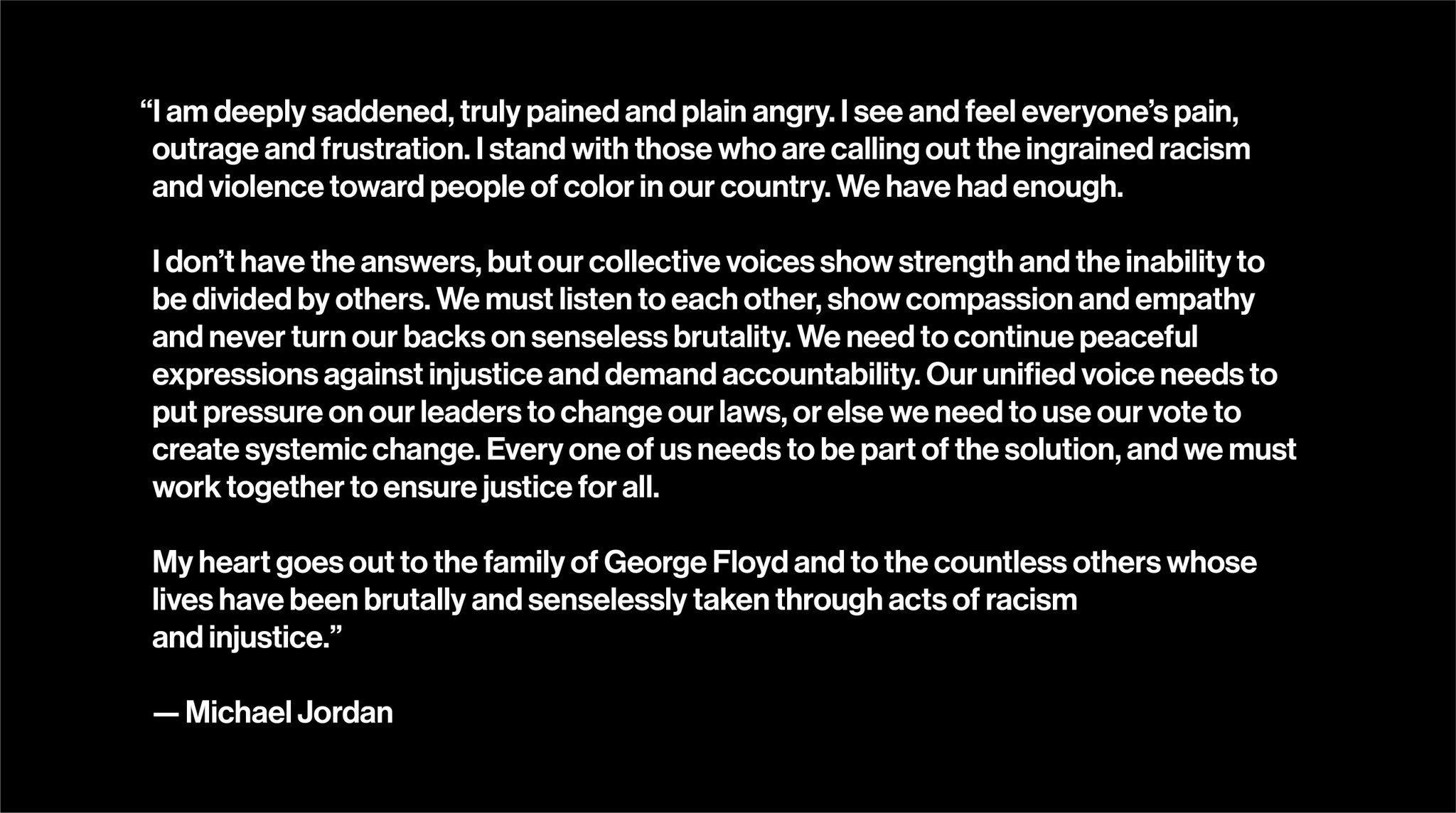 On what would have been the day of his 78th birthday we relive a memory of the legendary American boxer through one of the most significant episodes of his life.
"We are what we communicate." Let's tell all club presidents, coaches, fans, parents and sons: words and behaviors tell who we are and what we believe in and everyone takes responsibility for their actions.
#razzismo #Balotelli @ParoleOstili
i
Borussia Dortmund's media department have long been ahead of the game, and they've once ahead shown themselves to be trendsetters with a powerful new anti-racism advert that employs a lot of Nazi imagery. Before getting to the point, however, as thugs of neo-Nazi themed thugs are seen brutally playing football, as orders are barked from the sidelines from a man clearly meant to resemble Adolf Hilter. If the symbolism wasn't clear enough, one shot is clearly saved in the video by the goalie performing the Nazi salute. The end of the video displays the unequivocal message that "Football and Nazis do not mix". The video is the club's latest effort to combat a small but significant right-wing extremist body that has infiltrated the club's colourful fan base.