Archive for the 'Stress' Category
Page 2 of 67
Tell your dream. We will help you  to achieve it.
CEI Consulting collaborates with organizations and athletes who want to enhance the human factor in achieving excellent performances, because the difference between winning and losing is in the effective control of emotions, staying focused only on the  performance.
CEI Consulting helps athletes to:
Identify their specific concentration strengths and weaknesses with the most updated performance enhancement assessment systems.
Be aware of their performance profile with a 360° assessment program (technical, mental and physical).
Be aware of their skills when compared with those of the best athletes in the world.
Develop coaching programs for improving and performing at their best.
CEI Consulting uses The Athlete's Mental Edge, an exclusive performance enhancement system used by Olympic and championship-level athletes worldwide. It is a distillation of 30 years of research made in USA and Canada, Europe and Australia with the world's greatest athletes.
Please, for further information do not hesitate to contact us.
Phil Jackson and Kobe Bryant talk about the relevance of mindfulness and meditation to develop the self-control and full mastery of ourselves during the competition.
"It's like having an anchor. If I don't do it I feel like I'm constantly chasing the day as opposed to being in control" – Kobe
"You seat on the bench, you take a deep breath and you reset yourself; and you do that through the mindfulness." – Phil
How many times we have heard we must be optimistic, that we have to believe we can win, or that "with everything we've done we deserve to achieve a great result."
There is apparently nothing of wrong to have this thinking, "That's the way to push ourselves" many people say.
They also add: "What should I tell: to lose? Nobody start a competition with the goal to lose, therefore, you must start the race with the will to win it, because if you don't even think it, how will you get it?"
In short, "think positive and you will see that it will happen what do you want."
Well, all these good thoughts are useless and they can become harmful, because at the first difficulties and errors during the race, the athlete will not be ready to react immediately because he expects to win, that is to say that she is focused on the result and not on what to do to get it. "I was ready … and then things didn't go as I had expected."
These are often the words of those who start with a too trusting attitude and then at the end of the performance they attributes the result to something out of themselves, without taking responsibility for what it has happened.
These thoughts, which represent the athletes' expectations about the race, can really be considered as the performance killers. They are amazed by their own mistakes and the difficulties they face in the race and they have not prepared a plan to react effectively to these situations.
Health strongly favored by:
10,000 is the minimum number of steps to do per day
150 are the minutes per week of moderate intensity physical activity
130 steps per minute is the ideal pace for a walk
100 are the walking steps per minute. 25 steps in 15 seconds
5 are the minutes to walk every hour
The world don't walk so much and the world average is 5.000 steps
Warning: introduce changes to one's habits through the adoption of habits tailored to one's psychological and physical conditions and compatible with everyday life
Smartphone data from over 68 million days of activity by 717,527 individuals reveal variability in physical activity across the world.
a, World map showing variation in activity (mean daily steps) between countries measured through smartphone data from 111 countries with at least 100 users. Cool colours correspond to high activity (for example, Japan in blue) and warm colours indicate low levels of activity (for example, Saudi Arabia in orange).
b, Typical activity levels (distribution mode) differ between countries. Curves show distribution of steps across the population in four representative countries as a normalized probability density (high to low activity: Japan, UK, USA, Saudi Arabia). Vertical dashed lines indicate the mode of activity for Japan (blue) and Saudi Arabia (orange).
c, The variance of activity around the population mode differs between countries. Curves show distribution of steps across the population relative to the population mode. In Japan, the activity of 76% of the population falls within 50% of the mode (that is, between the light grey dashed lines), whereas in Saudi Arabia this fraction is only 62%. The UK and USA lie between these two extremes for average activity level and variance. This map is based on CIA World Data Bank II data, publicly available through the R package mapdata (https://www.r-project.org/).© 2017 Macmillan Publishers Limited, part of Springer Nature.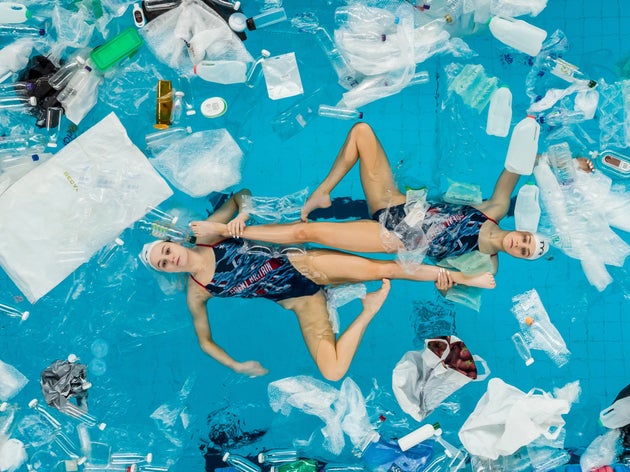 British synchronised swimmers Kate Shortman and Isabelle Thorpe recreate their world championship routine among bottles, carrier bags and toiletries to highlight the problem of 8m tonnes of plastic being dumped into the oceans each year.
Michigan State head coach Tom Izzo had to be restrained by his players from going after freshman Aaron Henry.  The heated exchange came after a 10-0 run by the Spartans.
Izzo was furious with Henry for an unknown reason.  From the looks of it, this isn't the first time he's gone in on the young forward.
"Coach is filled with passion and emotion and love, you know, those are the main things that make him as great as he is," Winston told reporters Friday. "When he's getting after you or when he's yelling it's never out of harm. It's never out of hate. It's literally him wanting the best for you and him challenging you and pushing you the best you can be and it's worked for years and years and years.
There should be no place for abusive, threatening & intimidating leadership–anywhere! If Michigan State coach Tom Izzo "leads" like this in public, what does he do when no cameras are present?
A. Cei (Ed.), Movimento, 3, 2018
Abstract
Sport psychology is a scientific and professional field in continuous development, as many other areas of psychology and in the last 10 years occurred several situations that have changed this job deeply.
This contribute will described seven areas protagonists of these changes. They refer to: sport psychology and performance psychology, the psychologist in youth programs, sport psychology, performance and stress management; sport psychology and mental health of athletes, sport psychology and disability, sport psychology and physically active lifestyle and sport psychology 4.0.
The purpose of this article is to deepen the knowledge in the areas of sport psychology consultancy, providing cues for reflection in relation to where it's going and how is moving this work context and stimulating the professionals to develop counseling programs, increasingly adapted to the new demands of the sporting world.
Furthermore, this issue of Movimento include a large number of interviews to the sport psychologists to describe their motivations, job, competences and developmental perspectives
Who is interested at this issue of Movimento devoted to the work of sport psychologists in Italy can write and will be linked to the publisher.
"
Strong evidence shows that physical inactivity increases the risk
of many adverse health conditions, including the world's major non-communicable diseases (NCDs) of coronary heart disease (CHD), type 2 diabetes, and breast and colon cancers, and shortens life expectancy. Because much of the world's population is inactive, this presents a major public health problem.
…
Worldwide, we estimate that physical inactivity is responsible for between 6% and 10% of the major NCDs of CHD, type 2 diabetes, and breast and colon cancers. And, this unhealthy behaviour is responsible for 9% of premature mortality, or >5.3 of the 57 million deaths in 2008. By eliminating physical inactivity, life expectancy of the world's population may be expected to increase by 0.68 years. This makes inactivity comparable to the established risk factors of smoking and obesity, discussed below. It is important to interpret the added years of life correctly: they appear modest because they represent gains in the whole population (comprising inactive and active persons), not among inactive persons who become active. Because all the gain accrues to those who move from inactive to active, the increase in life expectancy among the inactive alone is greater. For perspective, other research conducted in the United States estimated that inactive persons would gain 1.3–3.7 added years from age 50 by becoming active. And, among East Asians, life expectancy from age 30 among the active was 2.6–4.2 years greater, compared with inactive persons."
"Noncommunicable diseases (NCDs) kill 41 million people each year, equivalent to 71% of all deaths globally.
Each year, 15 million people die from a NCD between the ages of 30 and 69 years; over 85% of these "premature" deaths occur in low- and middle-income countries.
Cardiovascular diseases account for most NCD deaths, or 17.9 million people annually, followed by cancers (9.0 million), respiratory diseases (3.9million), and diabetes (1.6 million).
These 4 groups of diseases account for over 80% of all premature NCD deaths.
Tobacco use, physical inactivity, the harmful use of alcohol and unhealthy diets all increase the risk of dying from a NCD.
Detection, screening and treatment of NCDs, as well as palliative care, are key components of the response to NCDs.
…
Modifiable behavioural risk factors
Modifiable behaviours, such as tobacco use, physical inactivity, unhealthy diet and the harmful use of alcohol, all increase the risk of NCDs.
Tobacco accounts for over 7.2 million deaths every year (including from the effects of exposure to second-hand smoke), and is projected to increase markedly over the coming years.
4.1 million annual deaths have been attributed to excess salt/sodium intake.
More than half of the 3.3 million annual deaths attributable to alcohol use are from NCDs, including cancer.
1.6 million deaths annually can be attributed to insufficient physical activity."